Getting Started with ShopStyle Collective
Like us on Facebook
Hi there, gorgeous friend! Are you new to ShopStyle Collective? Do you need some pointers, or are you just looking for an easy refresh on how to use the ShopStyle Collective affiliate platform? Here are a few easy steps to get started. In this Getting Started guide, you'll find instructions on how to:


Create a link
Build a widget
Monetize your social networks: Facebook, Instagram, Twitter, and video!

How to Create a Link

There are two ways to create an affiliate link-- by finding the item in ShopStyle Search, or by using our LinkIt tool on the retailer's site.

Create a link via Search in ShopStyle Collective: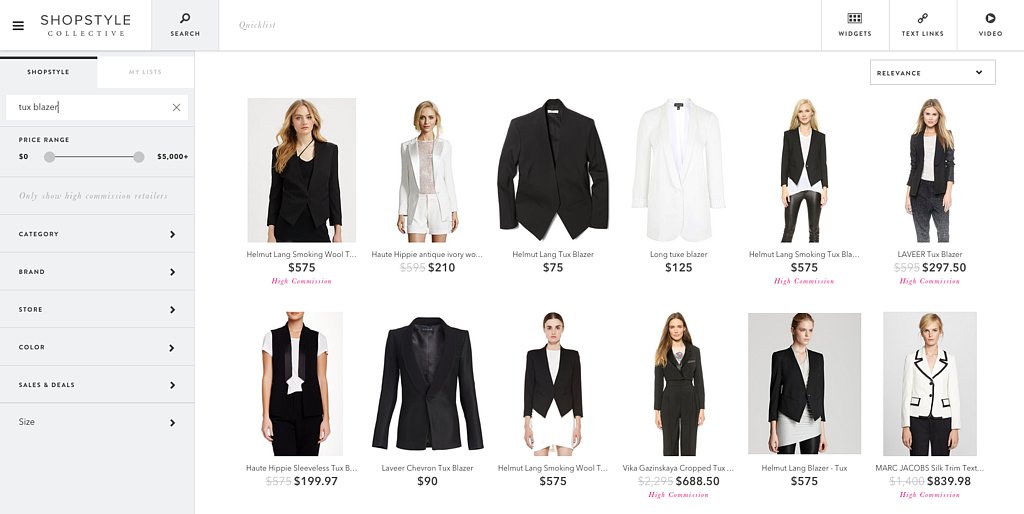 Find the Search box at the top left of the ShopStyle Collective Search page and type in the product keyword you are looking for, like "tux blazer."
Hover over your desired product and click "Copy Link."
Create a link via the ShopStyle Collective LinkIt tool:
1. Install the LinkIt tool by dragging the button to your browser's toolbar.
2. Go to any participating retailer's page and find the page you want to link to.
3. Launch the LinkIt button on the retailer's site.
4. Click the "Copy Link" button.

How to build a widget
A widget is a visual way to display your products within a blog post, or you can even use a large widget to build a Shop page on your blog.



There are two ways to create widgets:
1. Create widgets on the fly by hovering over the item you want and click "Add to Widget."
2. Create widgets from a saved list so you can access them later. See these detailed instructions.


How to Monetize Your Social Networks





Facebook: Include a ShopStyle Collective affiliate link on your Facebook status to monetize your Facebook page directly. Readers love to get a sneak peek into your life, so link to items you are currently coveting or new purchases that you know your followers want to see! Pro tip: Use the social sharing icons in the ShopStyle Collective LinkIt tool or ShopStyle Collective Search to save time.

Twitter: Tweet out links to your favorite products by using the LinkIt tool. it's supereasy to use!

Video: Video is the new frontier, so we are giving you the capability to monetize it! Get easy instructions on how to create shoppable videos!

Instagram: We all love it, and the app that has us obsessed is now monetizable--holla! Get steps on how to use ShopStyle.it to monetize Instagram!

Pinterest: Don't you dare forget about Pinterest-- it's one of the largest revenue sources for our top earners!


Now go off and make that money, honey!

xo,
Carlina
Community Manager